BROOK KATZ BIOGRAPHY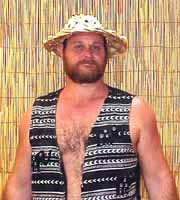 Brook's Bio 2016
Born in Cleveland, Ohio, Brook stands 5'9″ and weighs a healthy 195 lbs. He is living proof of the vegan lifestyle he educates and advocates.
Brook was a licensed paramedic and surgery technician after doing 2 years in the military. At age 30 he switched to the more holistic and natural side of medicine and changed his lifestyle. He has been certified in polarity and bio-magnetic therapies, and has practiced massage and reflexology for over 30 years. Brook specializes in vegan nutrition, and in replicating any food that people like, but need to change. Brook has coined the word "Veganized".
Brook is proof that you can change your lifestyle for the better. At age thirty Brook weighed almost 300 lbs. He suffered from diverticulitis, a bleeding ulcer, and severe arthritis, to name a few. At the direction of Dr. Michael Klaper M.D, Brook began a strict, but delicious, vegetarian (vegan) diet. His change of lifestyle including exercise, fasting, herbs, sunshine, and clean water, soon cured his health problems and directly caused him to lose over 100 lbs. in weight. He also came to the realization that veganism went beyond diet. Soon he was connecting with things he never did before. He became more compassionate, and aware of things. New knowledge connecting atrocities that directly related to the life he was leaving further convinced him he was heading in the right direction. He has since helped thousands of other people to change their lifestyles, and to feel better.
Brook worked and lived over a decade with a non-profit organization, learning nutrition, and how to prepare healthy delicious foods. He was part owner and worked several years in Maui's world famous "Vegan" restaurant , and has written a number of books and has traveled the world doing seminars, teaching, catering, and giving cooking demonstrations. He has produced almost a dozen health or animal expo's, and has done a number of Meatout campaigns, and has organized many events to feed the homeless. Brook works with a number of cities putting on regular monthly FREE vegan buffet dinners with speakers. Check his events page. Brook has also cooked for a number of movie stars, politicians, and even a vegan luau (Polynesian feast) for the King of Tonga.
Brook lectures internationally, and has appeared on many radio and television shows, where he discusses nutritional therapy, herbal healing, and sometimes, even cooks on the air! He has authored "The Gentle Persuasion Cookbook", which teaches how to make Seitan (wheat meat), and has a DVD now showing step by step instructions. He has also written "The Really Real Foods Cookbook", a tasty array of low-fat gourmet recipes published and sold in Australia where he lived for 2 years. His newest cookbook, "New Favorites", redesigned recipes for your health, featuring your favorite childhood memories, but veganized so you can still enjoy them, but be healthy and kind at the same time.
Brook has put together the ever growing "Annual Animal Adoption Fair" now in its 6h year (www.animaladoptionfair.com) in Fort Lauderdale. This will be the biggest event ever, bringing together over 70 shelter and rescue groups dozens more vendors and exhibitors, plus hundreds of animals up for adoption. Over 1,100 animals have found their "Forever Homes" over the past 4 years, and he hopes the upcoming event on Aug 23, 2015 will be the best yet!