Cookbooks written by Brook Katz
New Favorites: Re-Designed Recipes for Your Health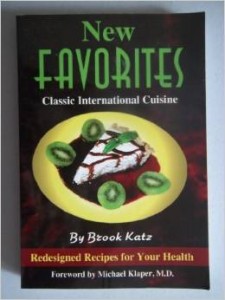 Re-designed recipes for your health. An international collection of favorite foods that have all been made healthier. By simply changing some of the ingredients, Brook recreates your favorite recipe without altering the taste or appearance of the dish. Try his re-designed cheesecake or ice cream recipes that have no dairy or cholesterol, and are low in saturated fat and sodium too. His cooking has won him international acclaim, and he puts it all into making this cookbook one of your "New Favorites" too.
or PRICE $11.95 plus tax, shipping and handling, TOTAL = $13.50 for U.S.A.
(additional costs for overseas & First Class postage)
Make checks payable:Brook Katz
2559 Blue Sage Ave.
Coconut Creek, Florida 33063
To pay with Visa or Mastercard phone or fax your order to:
American Vegan Society
856-694-2887 phone
856-694-2288 Fax
---
"Making Seitan (The Easy Way)"  DVD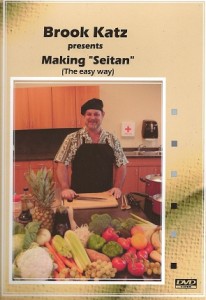 DVD PRICE $14.95 including tax, shipping and handling
(additional costs for overseas & First Class postage)
Brook Katz shows how easy and affordable it is to make your own Seitan. Watch as Brook takes you step by step in the creation of this low-fat, high protein meat alternative. Seitan is made from the protein (the gluten) of the wheat plant. It also contains iron and has absolutely NO Cholesterol, unlike it's meat counterpart. It has a chewy, meat like texture, and can be used to make any dish that would call for meat. Imagine teryaki, or beef wellington, you can even grind it for taco filling, sloppy joes, or making burgers. It's all the good things you like about eating meat, without all the down sides, like obesity and heart disease. Plus you get clean arteries and a clear conscience as an added bonus!!!Order now and get a 2nd DVD at 1/2 price to give to a loved one or a friend! (Shipping and Handling are always included with me!)
Make checks payable:  Brook Katz
2559 Blue Sage Ave.
Coconut Creek, Florida 33063
"Vegan Power" T-Shirt
available in black and white, all sizes$15 plus $5 postage/handling
---
$12 each 9 x 6 soft cover, perfect bound. Over 100 pages of beautiful full color nature photography and poetry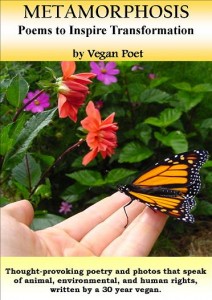 A wonderful book of inspirational poems all based on the life experiences of this 30 plus year vegan activist. She will make you realize the importance of being a truely compassionate soul. Her words not only paint a picture in your mind, but each one leaves you with a message that becomes emblazened in your very essence. To go with this are the visual effects and the incredible photography to go along with each poem she has written. She has lived the life and she walks the talk. A recommended read for the cynical or hardened spirit, as it can make you think and still inspire hope. For everyone else it'll make you smile or bring a tear to your eye, but it will definately reach your heart.
M. Butterflies Katz can be reached at veganpoet@hotmail.com
More Books by Brook
The Really Real Foods Cookbook
Temporarily out of stock
The Gentle Persuasion Cookbook
Temporarily out of stock